Woodlands Wines
Regular price
$284.00
Sale price
$199.00
Unit price
per
Sale
Sold out
Share
View full details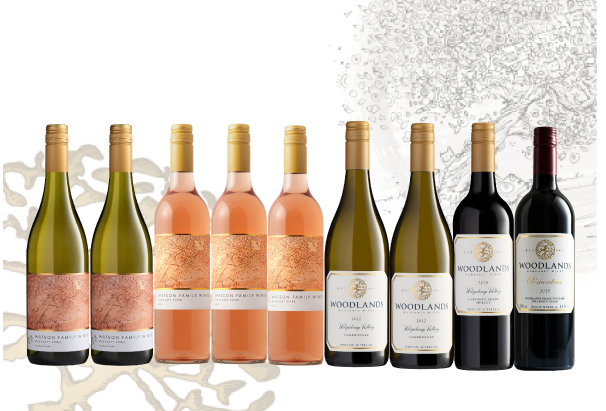 Rediscover the Woodlands Range
This great pack consists of:
2 x 2022 Watson Family Chardonnay
2 x 2022 Wilyabrup Valley Chardonnay
3 x 2022 Watson Family Rosé
1 x 2020 Wilyabrup Valley Cabernet Franc Merlot
1 x 2019 Woodlands Brook Clémentine
Tasting Notes
2022 Watson Family Chardonnay

2022 Watson Family Chardonnay was grown in the Wilyabrup Valley, located in the heart of Margaret River.

With a superb vintage conditions in 2021, fruit was harvested clean and at optimum ripeness

2022 Watson Family Chardonnay is pale straw in colour, with detailed notes of chamomile and orchard fruits on the nose.

The palate is vibrant and racy, featuring crunchy fresh peaches and nectarines. Acidity is bright and clean.

Serve this wine alongside zucchini salad with cherry tomatoes and dollops of fresh ricotta, tossed in herbs and EVOO.
2022 Wilyabrup Valley Chardonnay

This wine continues our commitment to 100% Wilyabrup Vally Chardonnay, 100% fermented in barrel, with 0% additions during ferment.

Vintage 2022 started slowly and finished with a bang. Spring was cool and wet, causing yields to be down, but fortunately disease and bird pressure was low. By mid-December the temperature rose rather rapidly. The weather conditions lead to a rapid veraison at a later than usual date, causing a lot of Chardonnay blocks to be fully ripe at once! Coming in thick and fast, the condition of fruit was fantastic.

Once harvested and in the winery, the fruit was sorted and gently destemmed before being gently pressed. A small portion of this wine was also pressed as whole bunches, which we feel adds finesse. 100% of ferments proceeded without addition in French oak, with some malolactic fermentation occurring though not promoted. This wine spent a total of 7 months in barrel.

Our 2022 Wilyabrup Valley Chardonnay has a sophisticated mix of elegance and restrained power.

Bright pale lemon in colour, it opens up in the glass with aromas of citrus rind and manuka flowers. Notes of oyster shell hint at the minerality to come.

The palate follows with lemon and lime, white flowers and grilled cashews married to a slate-like texture. The intensity grows as you let the glass sit and unveil, finishing fine and powerful.
2022 Watson Famliy Rosé

We continue to explore the possibilities of rosé in Margaret River. In 2021 we made our rosé from low cropping Shiraz for juicy flavours, and 11% Cabernet Franc for aromatic tension and structure.

This rosé is made in the traditional style - after harvesting, the grapes were crushed then pressed off to stainless steel tank to undergo a slow and cool fermentation. It was then bottled early to preserve freshness.


The colour of 2022 Watson Family Rosé is brilliant pale salmon.
Aromas of strawberries, raspberries and toffee apple make your mouth water at the first swirl.

This wine has a lovely juicy flavour profile- you'll find red berries and crunchy fruits, balanced with crispy acidity.
Try match this wine with BBQ crispy skinned salmon with mint yoghurt sauce.
2020 Wilyabrup Valley Cabernet Franc Merlot

Woodlands have produced this blend of Cabernet Franc Merlot blend since 2008. Each year we produce around 20 barrels of this blend, sourced entirely from the Wilyabrup Valley.

Cabernet Franc is often disobedient in our Cabernet Sauvignon blends, tending to thin out the palate. However, when blended with Merlot, the variety really comes into its own.

The winter leading into 2020 began with good rainfall but finished below the long term average. A cold front came through in late October, bringing hail which reduced the overall yield. Following came a very warm and very dry Spring and Summer, and an exceptionally early start to the harvest.

The combination of hail damage, low rainfall and the hot summer reduced crops by between 20% and 40% on average around the region. The resulting wines are very concentrated, with firm tannins at this early stage.

Our 2020 Cabernet Franc Merlot is a 50:50 blend of Cabernet Franc and Merlot matured in French oak for 15 months.

2020 Wilyabrup Valley Cabernet Franc Merlot is bright, intense crimson in colour.

The nose has an abundance of blueberry, mulberry, and toasty grilled almond aromas on the nose. The classic Cabernet Franc indeed!




The palate is very clean and bright, its fresh fruit profile gliding over fresh natural acidity, adding cranberry and crunchy blue fruits to the mix, finishing with a hint of white spice.


Match this wine with Italian sausage pasta, or Sicilian eggplant Caponata with bruschetta.
2019 Woodlands Brook Clémentine

'Clémentine' is our Woodlands Brook Vineyard Cabernet blend, taking its name from Andrew and Marie's daughter.

The fruit was harvested over three weeks from the 27th of March 2019, gently destemmed, then hand -sorted berry by berry in the winery. In 2019 this wine was fermented without added yeast, which we feel has enhances complexity, particularly in the aromas. Following ferment the wine spent 17 months in French oak barrels, 60% of which were new.

Our 2019 'Clémentine' is a blend of 54% Cabernet Sauvignon, 22% Merlot, 18% Malbec, 5% Cabernet Franc and 1% Petit Verdot.

Bright crimson in colour, the nose is saturated with aromas. Black and red cherry, raspberry, star anise, five-spice and cedar oak feature. The palate reveals more primary red fruit, together with liquorice and cocoa. Fresh acidity keeps everything in balance, while spice and young firm tannins unveil upon decanting.

This wine will be best enjoyed between 2026-2029.

Match this wine with wood-fired pork chops, potatoes and caramelised onion in thyme butter.

Or try with pizza bianca with potatoes, mascarpone and rosemary.