Wilyabrup Valley
Regular price
$38.00
Sale price
$38.00
Unit price
per
Sale
Sold out
This wine continues our commitment to 100% Wilyabrup Vally Chardonnay, 100% fermented in barrel, with 0% additions during ferment.
Vintage 2022 started slowly and finished with a bang. Spring was cool and wet, causing yields to be down, but fortunately disease and bird pressure was low. By mid-December the temperature rose rather rapidly. The weather conditions lead to a rapid veraison at a later than usual date, causing a lot of Chardonnay blocks to be fully ripe at once! Coming in thick and fast, the condition of fruit was fantastic.

Once harvested and in the winery, the fruit was sorted and gently destemmed before being gently pressed. A small portion of this wine was also pressed as whole bunches, which we feel adds finesse. 100% of ferments proceeded without addition in French oak, with some malolactic fermentation occurring though not promoted. This wine spent a total of 7 months in barrel.

Our 2022 Wilyabrup Valley Chardonnay has a sophisticated mix of elegance and restrained power.

Bright pale lemon in colour, it opens up in the glass with aromas of citrus rind and manuka flowers. Notes of oyster shell hint at the minerality to come.

The palate follows with lemon and lime, white flowers and grilled cashews married to a slate-like texture. The intensity grows as you let the glass sit and unveil, finishing fine and powerful.
Share
View full details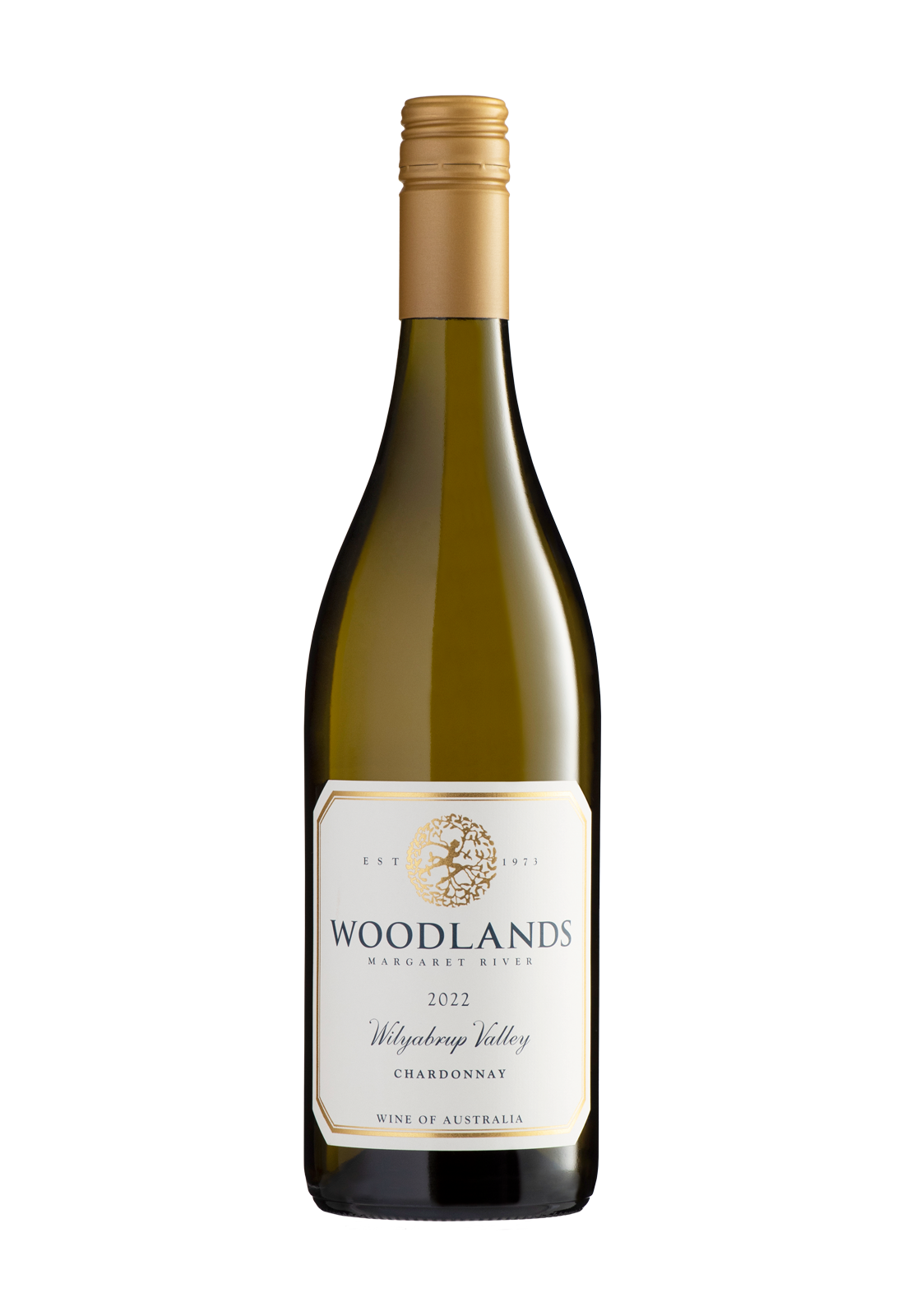 The Wilyabrup Valley
 Fine wine is a subtle thing. Often the difference between one terroir and another is that "from time to time it rains there, but it doesn't rain here", or "a warm wind comes through the valley here, but not there". It all adds up, if you're paying attention, and if you can capture it.
We've always believed in Wilyabrup. Woodlands wines will only ever come from 100% Wilyabrup Valley fruit –  not for any perception of quality, it is simply who we are. This is where we're from, and that's why Wilyabrup Valley is front and center on the label. We hope our Wilyabrup Valley series can take you here, to our little valley.
History & Location
The report of Dr John Gladstones in 1965 stimulated a great
interest in planting particularly cabernet sauvignon in Margaret river,
recommending the area around what is now known as Wilyabrup as his preferred region for this variety. In his letter of 23 June 1966, Dr John Gladstone wrote "overall the evidence seems to me to point to the area along the coast road or
slightly east of it (in any case not less than say, 1-2 miles from the sea)
from immediately west of Cowaramup northwards as far as perhaps Yallingup.
Within this area soils would be the critical factor, and almost certainly the best would be in the southern part, west and northwest of Cowaramup.  That then would be my pick: somewhere in the drainage areas of either Wilyabrup
brook or big brook."
In his conceptual plan for separating the Margaret river
wine region into different sub-regions, Dr John Gladstones thus defines the Wilyabrup
sub-region in Margaret river as consisting of the combined drainage basins of the Wilyabrup and Cowaramup brooks, which drain westwards to the Indian Ocean.
Wilyabrup was the first site of the earliest modern commercial plantings in Margaret River. The first trial in 1966 was undertaken on a quarter acre of land and this was followed by commercial plantings in the following year. Wilyabrup, which remains the major and most intensely planted part of the Margaret River region, was thus the first sub-region, whose wines highlighted the quality of its styles from young vines and now from fully mature vines. These wines have fully borne out the predictions that, based on climate, the bordeaux grape varieties were particularly well suited to the Wilyabrup sub-region."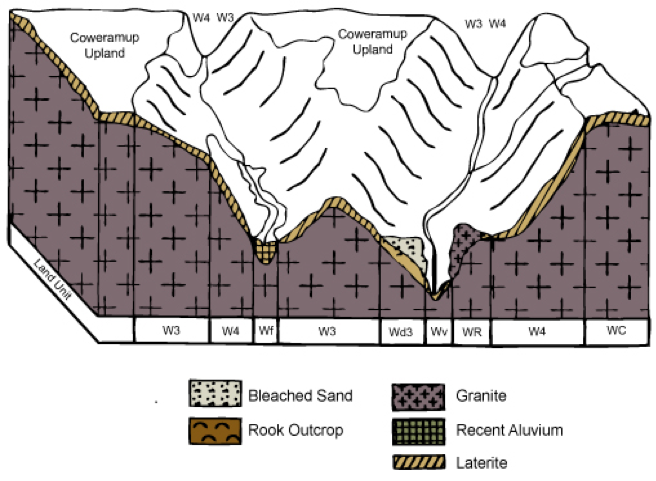 Soil Profile And Weather Vines Prosper On The Wilyabrup Soils.
The gravel subsoil ensures good drainage, while the high clay content enables good water retention throughout summer.
The weather in the Wilyabrup Valley is characterised by high winter rainfall and long dry summers. The Indian Ocean surrounds the region to the north and west, providing a moderating effect on the temperature.
The area benefits from exposure to ample warmth and sunshine and a strong maritime influence and from little direct exposure to winds from the north and northeast. There is a tendency for diurnal east west air convection cells to form in summer, due to the lie of the land. Wilyabrup is too far north to receive a strong influence from southerly winds.
Discover the Wilyabrup Valley cliffs one of Margaret River's best kept secrets.
Learn More