Woodlands Vineyard
Regular price
$99.00
Sale price
$99.00
Unit price
per
Sale
Sold out
We believe 2016 may go down in history as Margaret River's greatest vintage. A perfect warm summer was interrupted by 90mm of rain in mid January, after which the great conditions continued. Our unirrigated vines loved the drink, and went on to produce wines of class and restrained power, balanced by great natural acidity -particularly so for our Cabernet Sauvignon vines.
Woodlands 'Margaret' is sourced entirely from the Woodlands Vineyard. The Cabernet Sauvignon portion comes from a slope on the south of Woodlands that wraps around a 90-degree radius from east to north. The fruit on this slope receives a great deal of direct sunlight from morning to mid-afternoon, leading to rich full-bodied wines.
The Merlot and Malbec plots that make up the remainder of 'Margaret' come from our west-facing slope of deep loam soil. This slope receives the most direct afternoon sunlight at Woodlands, and produces more exotic fruit characters in the finished wine.
Following harvest, the fruit was destemmed, hand sorted, crushed and fermented in small stainless steel fermenters. Following fermentation, the Cabernet Sauvignon portions remained on skins for 35 days for added complexity and tannin integration. Once fermentation was complete this wine was transferred into French oak where it remained for 18 months. - 50% percent of the barrels used to mature this wine were new.
Our 2016 'Margaret' is a blend of 70% Cabernet Sauvignon, 17% Merlot and 13% Malbec.
This wine is intense deep garnet in colour. The nose displays fresh mulberries interweaved with blackberry compote, cherry and violet. Quite lifted and vibrant, the nose also hints at a little sweetness in the form of toffee apple. The palate reveals a wine of subtle power, showing an array of dark fruits, cacao bean, orange zest, star anise, and hints of black pepper. The palate is driven, beautifully layered and finishes with bright energetic acidity.
Completely charming and refined, our 2016 Margaret will be in its prime between 2024-2030.
Pair with;
Wild rice and mushroom stuffed red peppers Olive, romato, roasted garlic, thyme and goat cheese tart.
Slow cooked lamb shoulder with fresh mint sauce
Share
View full details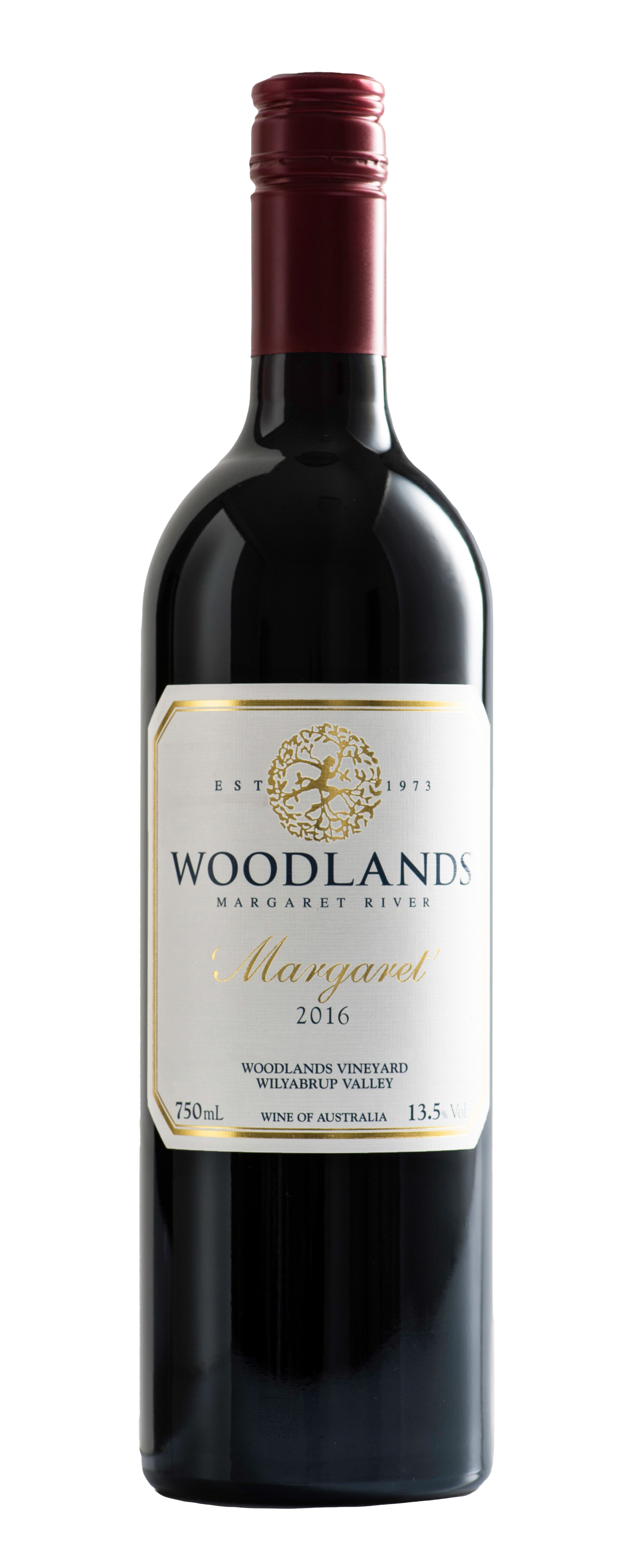 Woodlands Vineyard
In 1973 cuttings were taken from a nearby vineyard, and an initial planting of eight acres was made in rows heading east-west along the contour of the property – 3 meters between rows and 1.75 meters between vines. The initial planting comprised 3 acres of Cabernet Sauvignon. A further 5 acres was planted between 1974 and 1976, comprising Cabernet Sauvignon, Malbec, Pinot Noir and Cabernet Franc. The old block was completed in 1985, with 4 acres of Chardonnay and Cabernet Sauvignon planted. Subsequent plantings now sees Woodlands with a total of twenty six acres (ten hectares) of vines.
This vineyard is certified organic.